Jobs with Community Voters Project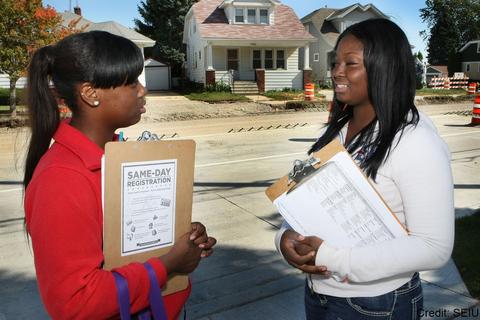 The Community Voters Project is kicking off its campaign to increase turn out among African-American and Latino voters. 
Voting is one of the core rights and responsibilities of American citizens. For much of our country's history, millions of Americans were, by law, denied that right. But in the 20th century, the women's suffrage movement and the civil rights movement ended most of these restrictions on the right to vote.
Today, some communities are still underrepresented at the voting booth, and so making our voices heard by casting a ballot is still critical to a strong democracy. 
We have full time positions available we're looking for people who work hard, communicate well, and are interested in working towards positive social change.
Are you good with people? As a canvasser, you'll go out into communities, talk to people, and identify people who aren't registered to vote. Then, you will help get them registered. Canvassing is the heart of so many of the campaigns we work on, and canvassing positions are available in several states across the country. Apply >
Do you want to increase voter registration and ensure everyone's voice is heard in our democracy? If yes, you should apply to be a canvass director with the Community Voters Project. You will recruit and oversee a team of committed canvasser activists and help increase participation of underrepresented communities in the 2016 elections. Learn more >
The Community Voters Project, a project of the Fair Share Education Fund and the Center for Public Interest Research, is seeking an experienced program director to promote our site-based, non-partisan voter registration campaigns in communities of color across the country during 2016. Learn more >